How to install our RF-V03 GPS Tracker
Have you heard the new product of RF-V03 GPS Tracker from Reachfar?
If you noted it, you may find that the Vehicle GPS Tracker has be launched in this June.
Now the question is do you know how to install this Car tracker?

Let's learn the Installation Method of Anti Thief GPS Tracker:
1.Please check whether the host device is with complete accessories.
2.Choose SIM card. Please insert a Micro SIM card with GSM network.
3.SIM card installation. Open the cover of the device from the device side corner and uncover the SIM card holder. Then insert the SIM card and lock the sim card cover accordingly as below shown.
4.Switch on the power button to the right side as below shown.
5.Then connect to the external 12-72V power supply.
Note: Because the charging voltage of the electric vehicle is unstable, the instantaneous voltage is too high, and the device is used prudently on the electric vehicle above 70 volts. The vehicle with below

70V power

is recommended.

6.Finally, the terminal will be fixed in the car's concealed position with two-sided tape or in binding way.
Note: the SIM card should be installed in the right direction.
The SIM card's GPRS data plan shall be activated and turn off the PIN code by setting from your mobile phone.

Device installation position:
This device is a high-tech

GPS dual-mode positioning

product. It is recommended to install it in a hidden position with its surface upward to the sky.
(1) To avoid thieves' destruction, the device is recommended to install in a hidden position as below:
The trim panel under front windshield;
A position around the front dash board;
Under decorating plate below back windshield.
(2) Avoid being placed with the emissive source, such as reversing radar, signal transmitter and other vehicle communication terminals.
(3) The device is equipped with

GSM and GPS antennas

. When installing, please ensure that the device front faces upwards (up to the sky), and there are no metal objects above it.
Note: If the windshield is glued with metal insulation or heating layer, it will reduce the GPS reception signal or even fail the GPS. Please change the device installation position.

Device connecting requirements.
This device external power supply range is

DC 12-72V

, the red wire is the positive pole of the power supply, and the black one is the negative pole.
The negative pole needs to connect ground alone, not with other ground wires.
After the power cord is connected, pull the power wiring harness plug nearby the device.
Concealed installation: Please use the main power supply wire provided in the original accessories, the infrared end with fuse block (2AFUSE) provides the short circuit over current protection.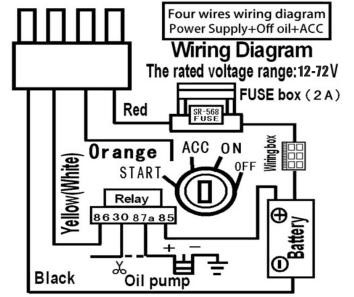 If any questions about installation, you can watch the video instructions here.
YouTube video link:

https://www.youtube.com/watch?v=2vbNgiEkAgQ