Fall alarm is useful though some fault alarms exist
A slip or fall is stressful for you and your loved ones, especially for seniors, the common statistic cited for falls among seniors is that a third of people over the age of 65 will suffer a fall every year. But what is not commonly mentioned is survival statistics. And they show why every senior should get a GPS tracker with a fall alarm.
An excellent GPS tracker can give you reassurance that if you need help, it will be there. Your family and loved ones can rest easier knowing that you can get help if something happens.
Here are several benefits of automatic Fall Alert GPS tracker to seniors.
1. Fall Alert Systems activate an alarm when a senior is in distress even if the senior cannot activate the alarm by hand.
2. Automatic fall detection technology solved the problem of being unable to push a button in a fall and can significantly reduce the mortality rate from falls by providing a response as part of a medical emergency response system.
3. By providing rapid emergency help fall buttons can prevent a senior from lying down helpless for hours or days. This prevents seniors from suffering more serious complications including dehydration and hypothermia.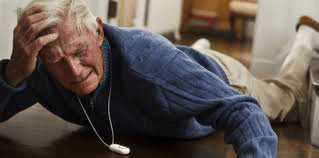 Given that Fall Alert GPS tracker is a relatively new technology product, there is some room for improvement. One possible inconvenience could be false alarms. These can occur if there is a sudden movement and then the user perhaps lays down or sits in a chair without any further movement. This could warrant unwanted paramedics to show up at your door, but advances in this technology appear to have greatly reduced false detection.
Something else to consider is accuracy. Movements such as sliding might not be detected. It is important to note that Fall Alert GPS tracker is not 100% accurate.
When selecting a fall detection sensor, you should carefully examine the options and select the system that works best in your life. Reachfar RF-V28 is a good Fall Alert GPS tracker for senior; though, fault alarm exists, it is better than no such function.